Bringing you the latest quick updates on the missing Malaysian Airlines MH370 | Everything you need to know about Flight MH370
*** BREAKING NEWS! ***
Eight Australian families of MH17 victims will sue Russia, Ukraine, Malaysia and the airline after their loved ones were shot out of the sky
Eight families who lost loved ones in the Malaysia Airlines flight MH17 disaster when it was shot out of the sky in rebel-controlled eastern Ukraine are preparing to sue Russia, Ukraine and Malaysia. The Boeing 777 was travelling from Amsterdam to Kuala Lumpur on July 17 when it was downed, killing all 298 people on board, including 38 Australian citizens and residents. It is not known which of the families are suing, however News.com.au reports they are from five different states across Australia and will also take action against Malaysia Airlines. Aviation lawyer Jerry Skinner, who is based in Alaska, has taken up their case and is preparing to lodge it at the European Court of Human Rights.
---
Video emerges claiming to show final moments inside the cabin of MH17 before it took off on doomed flight
The final moments before Malaysian Airlines Flight MH17 took off from Amsterdam Schiphol Airport on Thursday were captured on video by a Malaysian passenger, it has been claimed. Md Ali Md Salim, 30, reportedly posted footage of the plane's routine pre-departure process on Instagram on July 17 before the plane crashed near the Russian-Ukraine border.
Md Ali was reportedly studying at Erasmus University in Rotterdam, Amsterdam, for his doctorate of philosophy and he was travelling back to his home country of Malaysia to see his family for a holiday.
Flight MH17 took off from Amsterdam at lunchtime and was flying at around 33,000ft on one of the main routes from Europe to Asia when it was struck by a missile.
Md Ali's Instagram page is private but it is believed the video – allegedly showing passengers before MH17 took off – was shared by a friend and it has now been widely shared on YouTube and Facebook.
'Bismillah… #hatiadasikitgentar (In the name of God… feeling a little bit nervous)', the caption reportedly said.
The Instagram profile says the user, @MASA1777, is a clinical psychologist.
In the video a male passenger, wearing a black t-shirt and beige pants, is seen lifting his blue and white backpack into the overhead compartment.
The backs of the plane's purple and teal seats can be seen, while a man in a salmon pink t-shirt sits to the right of the camera and a woman sits in front of him.
On the right, an air stewardess in the Malaysia Airlines patterned teal and purple uniform moves along the aisle closing the overhead compartments.
'We are in the final stages of our boarding and as we're loading please do ensure your phones are also off for the flight,' a member of the cabin crew can be heard saying.
Md Zaki Md Salim, MD Ali's older brother, told astroawani.com that his brother was one of the passengers on MH17.
'After receiving the news from my elder sister, I rushed to the airport here and MAS side confirmed my brother was one of the passengers of that flight,' he said at the Kuala Lumpur International Airport. – Dailymail
---
Malaysia Airlines Flight MH17 passenger Cor Pan's last Facebook post proves tragically prophetic
For Cor Pan, a Dutch holidaymaker heading for Kuala Lumpur with his girlfriend Neeltje Tol, boarding a Malaysia Airlines flight was an irresistible opportunity for black humour.
As he made his way down the sky bridge from gate G03 at Amsterdam's Schipol Airport, he paused to take a picture of the Boeing 777-200 that he and Ms Tol were about to board.
In a reference to the disappearance of flight MH370 in March, Mr Pan posted the picture on his Facebook page with the message: "If the plane disappears, this is what it looks like."
His friends responded by wishing him a good holiday and reminding him to send back lots of photos, but within hours their messages would turn to fear, and then despair.
Flight MH17 pushed back from the gate at 11.14 a.m. BST, 14 minutes behind schedule, and took off at 11.30 a.m. for a flight that was scheduled to land at 10.50 p.m. A local plane spotter, Fred Neeleman, photographed the aircraft as it took off, as did another man, Tom Warners.
For the next 110 minutes, the flight was entirely uneventful. With a complement of 280 passengers and 15 crew, MH17 made its way over Germany, Poland and Ukraine, reaching its cruising altitude of 33,000 feet and flying straight and level, but at 1.21 p.m. radar contact was suddenly lost.
On the ground, Igor Strelkov – also known as Igor Girkin – the leader of the pro-Russian separatists fighting the Ukrainian government forces for control of eastern Ukraine, used his page on the social networking site Vkontakte to boast that his men had just shot down an aircraft. In a message posted at 2.50 p.m. BST, he wrote: "In the district of Torez an An-26 was just shot down. It crashed somewhere near the Progress mine.
"We warned them not to fly in 'our skies.' Here is video confirmation of the latest 'fallen bird.' The bird landed outside the residential zone, no peaceful civilians were injured."
---
Downed Malaysia Airlines plane: how did it go wrong for flight MH17?
Malaysia Airlines flight MH17 was flying just 1,000 feet (300 metres) above restricted airspace when it was shot down, according to the European air traffic control body.
Eurocontrol said Ukrainian authorities had barred aircraft from ground level to 32,000 feet but the doomed aircraft was cruising at 33,000 feet, still within range of sophisticated ground-to-air weaponry, when it was hit. All flights in eastern Ukraine have now been barred from the area, Eurocontrol added.
"The aircraft was flying at Flight Level 330 [approximately 10,000 metres/33,000 ft] when it disappeared from the radar," said. "This route had been closed by the Ukrainian authorities from ground to flight level 320 [32,000ft] but was open at the level at which the aircraft was flying."
It also emerged that as recently as a month ago British airlines were given the all-clear to overfly the area where flight MH17 was downed, after being told that operations were "normal" in the region.
A notice posted by the UK's Civil Aviation Authority (CAA) on 14 June urged carriers to avoid overflying Crimea and parts of southern Ukraine a month ago due to safety concerns, but they were not ordered to avoid the rest of the country.
Airlines were asked not to overfly Crimea, the Black Sea and the Sea of Azov due to the potential for conflicting air traffic control instructions between Ukrainian and Russian authorities. It added: "Operations are normal in all other Ukrainian FIRs [flight information regions]." However, the CAA notice added that UK airlines flying into the Dnepropetrovsk flight region, which includes Donetsk, should "review current security/threat information".
The CAA memo, known in the aviation industry as a Notice to Airmen or NOTAM, was broadly similar to a notice issued by the regulator's US counterpart in June. Neither of the Notams refer to a threat from ground-to-air missiles or fighter jets, with the CAA notice adding that a further safety review will be conducted by 1 August.
Before every long-haul flight, airline pilots are given clearance by the air traffic control bodies along their route. Once airborne, flights can still be rerouted for safety reasons by air traffic controllers as they enter a country's airspace so, in theory, the pilots of flight MH17 could have been warned by Ukrainian air traffic control of a threat from military forces on the ground more than 30,000ft below. International airlines submit flightplans to air traffic control authorities every six months or so. Major airlines such as BA also have risk advisers who inform pilots of risks involving specific territories such as Ukraine, on top of the Notams from the CAA.
In a statement the CAA said that after the MH17 disaster airlines had been told by the European air traffic control body to avoid the region: "The Ukrainian authorities are responsible for managing their airspace and the UK or other countries cannot enforce airspace restrictions in the area. However, the CAA has previously issued advice to UK airlines on operating in this area and following this incident, Eurocontrol has issued advice to airlines to plan routes that avoid the area."
The UK Department for Transport said airborne flights were now being rerouted around the area where MH17 crashed. "Flights already airborne are being routed around the area by air traffic control in the region."
Eurocontrol said flight restrictions were not in place for airspace at cruising altitude, where MH17 was hit.
A global airline industry group said on Thursday that MH17 appeared to have been flying through ordinary and open airspace when it crashed.
"Based on the information currently available, it is believed that the airspace that the aircraft was traversing was not subject to restrictions," said the International Air Transport Association.
British Airways said it was not overflying Ukraine. "The safety and security of our customers is always our top priority. Our flights are not using Ukrainian airspace, with the exception of our once-a-day service between Heathrow and Kiev. We are keeping those services under review, but Kiev is several hundred kilometres from the incident site."
Germany's Lufthansa said it had decided to avoid east Ukrainian airspace with immediate effect, while Russia's Transaero said it would avoid Ukraine altogether and Reuters reported that Emirates had suspended flights to Ukraine. In France, a statement by the junior transport minister Frédéric Cuvillier said he had advised French airlines "to avoid Ukraine's airspace as long as the reasons behind this catastrophe are not known."
A pilot for a major European airline who has flown over Ukraine since the conflict began said it was normal practice for airlines to fly over conflict zones. "We would often avoid areas where there is air-to-air conflict, but we flew over Iraq and Afghanistan when the British and US armed forces were deployed there, because only one side was using military jets."
Explaining why airlines fly over conflict zones, where groups might be in possession of ground-to-air missiles, the pilot said: "There will be weapons based on the ground when you are at 30,000 feet, but that is far up in the air. There are not many missile systems that can be so accurate."
The pilot added that hand-held missile systems were not viewed as a threat to airlines flying at altitude but sophisticated weaponry, such as the Buk system that has been cited as being involved in the MH17 disaster, was much more dangerous. Had-held rocket launchers have been used against commercial aircraft, including an attack in Kenya in 2002 when a shoulder-launched missile just missed an Israeli airliner during take-off at Mombassa airport. In 2003 army vehicles and 1,500 anti-terrorist police were deployed at Heathrow amid fears of a similar attack.
The pilot's comments indicate that assumptions about flying over conflict zones where groups are known to be armed with ground-to-air missiles will now have to be reviewed. However, the pilot added that Ukrainian airspace was regularly overflown by European airlines – including British Airways, Lufthansa and KLM – and imposing a no-fly zone over the entire country would have commercial and logistical consequences for carriers.
"Ukraine is huge. If you were to close that airspace it would be a long way round for a lot of airlines. If you were to close it to high-level traffic it would be quite expensive in terms of extra fuel and it would be quite disruptive."
The cost of airspace restrictions was made clear to European airlines in 2010 and 2011 when an Icelandic volcano erupted and forced jets to be grounded across the continent, costing airlines millions of pounds in compensation and lost revenues and disrupting the travel plans of millions of people. – Guardian
---
Malaysia Airlines flight MH17 crashes in east Ukraine
Plane carrying 298 people may have been shot down near Russian border but government and separatists deny involvement.
A Malaysia Airlines passenger jet carrying 295 people from Amsterdam to Kuala Lumpur has crashed in an area of eastern Ukraine where separatist rebels have been engaging Ukrainian military forces in recent weeks. Ukraine's president, Petro Poroshenko, said the jet may have been shot down.
"We do not exclude that the plane was shot down and confirm that the Ukraine armed forces did not fire at any targets in the sky," Poroshenko said in a statement.
The field next to the tiny rural hamlet where MH17 plunged to the ground was a scene of charred earth and twisted metal. Locals were distressed to find body parts scattered around the scene. The body of what appeared to be a young woman lay about 500 metres from the centre of the crash, while a dismembered foot could be seen on the one road leading through the village.
A strong smell of aviation fuel hung in the air as pro-Russian separatist fighters attempted to secure the area. Ten fire engines remained on the scene after rushing there to extinguish the many blazes caused by the crash.
One local resident, Alexander, said he was working in the field a few hundred metres from its final resting place when he looked up. He feared the aircraft was going to crash on him.
---
MH370 'hijacked and in Afghanistan': Russian intelligence source claims all passengers and crew are alive but held hostage
A Russian newspaper has claimed that Flight MH370 was hijacked by "unknown terrorists" and flown to Afghanistan, where the crew and passengers are now being held hostage.
The extraordinary comments, attributed to a Russian intelligence source, appeared in the Moskovsky Komsomolets newspaper.
The source told the paper: "Flight MH370 Malaysia Airlines missing on March 8 with 239 passengers was hijacked. "Pilots are not guilty; the plane was hijacked by unknown terrorists. "We know that the name of the terrorist who gave instructions to pilots is "Hitch." "The plane is in Afghanistan not far from Kandahar near the border with Pakistan." According to The Daily Star, Moskovsky Komsomolets also claims the passengers have been divided into seven groups and are living in mud huts with almost no food. Twenty Asian passengers were said to have been smuggled into a bunker in Pakistan. It is also claimed that the terrorists are possibly seeking to bargain with either America or China. The news, perhaps unsurprisingly, has not been confirmed by authorities either in Malaysia or China.
Malaysia Airlines Flight MH370 disappeared soon after taking off on March 8 from Kuala Lumpur bound for Beijing. It had 227 passengers and 12 crew on board, triggering a multinational search that is now focused on the Indian Ocean. On Friday, the Prime Minister of Australia, Tony Abbott, has said he was "very confident" that signals picked up by search teams in the Indian Ocean were from missing Flight MH370′s black box. During a visit to Beijing, China, he told the the Australian Broadcasting Corporation: "We have very much narrowed down the search area and we are very confident the signals are from the black box." A fifth signal was detected by search crews on Friday. The signals will eventually allow them to determine an exact resting place for the downed Boeing 777. They will then send down a submersible vehicle to plumb the depths of the ocean for the black box. The 'pings' emitted by Flight MH370′s black box are soon expected to fade, more than a month after the plane, which was carrying 227 passengers and 12 crew, disappeared on March 8. – Mirror
Lost in Indian Ocean : Picture Gallery
Grieving Chinese relatives of passengers on the missing Malaysia Airlines flight MH370 console each other after being told of their deaths at the Metro Park Lido Hotel in Beijing on March 24, 2014. Tears and cries of inconsolable pain and loss echoed from a Beijing hotel ballroom as the relatives of MH370 passengers learned the news: their loved ones were dead. Some clung on to other family members for crumbs of comfort as they left the room where they were told the Malaysia Airlines flight had ended, incontestably, in the remote southern Indian Ocean. - NST. Image Source : NST
---
Angry families march on Malaysian Embassy in Beijing
More than 300 relatives and friends of missing Flight MH370 passengers marched to the Malaysian Embassy in Beijing Tuesday to express their anger and frustration with Malaysian authorities.
Hundreds of uniformed police blocked media from joining the protesters as they approached the gates of the embassy. – CNN
---
Malaysian PM says missing plane "ended its journey" in the Indian Ocean
Families of passengers of missing Malaysia Airlines flight MH370 have been informed that the plane ended its journey in the Indian Ocean, effectively ending their hopes of a miraculous survival. Malaysia's Prime Minister Najib Razak gave the information in a televised press conference at 15:00 CET. The presser came after three new sightings of possible debris, with France as well announcing yesterday that its satellite sighted possible wreckage from the plane in the southern Indian Ocean.
The last known location of the plane was in remote Indian Ocean waters off the coast of Perth on Australia's west coast.
Malaysian authorities briefed the families of the missing passengers ahead of the Prime Minister's press conference.
Australian authorities spotted at least two new floating objects in the Southern Indian Sea where a US Navy P-8 Poseidon, the most advanced search aircraft in the world, had been unable to find objects spotted earlier on Monday by a Chinese aircraft hunting for clues to the missing Malaysia jet. – Euronews
---
China and Japan join search
Two Ilyushin IL-76 aircraft from China and two P3 Orion aircraft from Japan joined the search and rescue (SAR) operation for the missing Malaysian Airlines flight MH370 in the southern corridor on Monday. The Australian Maritime Safety Authority (AMSA) said a total of 10 aircraft will be involved in the search for possible objects in the search area about 2,500 kilometres south-west of Perth. These include three civil aircraft – two Bombardier Global Express and an Airbus – The Star
---
Three nations spot debris in Indian Ocean site
ANOTHER lead emerged yesterday in the search for Malaysia Airlines flight MH370, with French satellite images showing possible debris from the missing Boeing 777 aircraft in the southern Indian Ocean.
Acting Transport Minister Datuk Seri Hishammuddin Hussein said the images were immediately relayed to the Australian rescue co-ordination centre.
The country is leading the search-and-rescue operation (SAR) in the southern Indian Ocean, which is now in its third week.
AFP reported that the French Foreign Ministry said radar echoes from a satellite put the new debris finding about 2,300km from Perth, without giving a direction or a date.
However, it could not be determined whether the images were the same as reported, also by AFP, which said a wooden cargo pallet, along with belts or straps, were spotted on Saturday in a remote stretch of the southern Indian Ocean. – NST
---
Bad weather hampers Australia's search
The Royal Australian Air Force (RAAF) has encountered problems due to bad weather in locating the objects detected by satellite in the southern Indian Ocean that could be linked to a missing Malaysian airliner, said the Australian Maritime Safety Authority (Amsa).
Clouds and rain had caused limited visibility for the RAAF P-3 Orion aircraft crew to locate the objects spotted by satellite about 2,500km southwest of the Australian city of Perth, tweeted Amsa.
Australian Prime Minister Tony Abbott had said earlier today that satellite imagery found two objects possibly related to the search for the Malaysia Airlines (MAS) flight MH370. – malaysiakini
---
Three More Aircraft Head For Indian Ocean Where 'Objects' Sighted
Three more aircraft have been deployed to the area in the southern Indian Ocean where objects suspected to related to the search for a missing Malaysian airliner have been sighted, according to the Australian Maritime Safety Authority (AMSA).The assets include a Royal New Zealand Air Force Orion and United States Navy P-8 Poseidon aircraft.
"The Poseidon aircraft is expected to arrive at 3 pm. The second RAAF Orion is expected to depart RAAF Base Pearce at 6 pm. The New Zealand Orion is due to depart at 8 pm," AMSA Emergency Response Division general manager John Young said in a statement Thursday. – Bernama
---
MAS To Fly Relatives To Australia Upon Confirmation Of Spotted Objects
Malaysia Airlines (MAS) is prepared to fly to Australia the families of passengers and crew of its missing flight if the two objects captured on satellite imagery in the southern Indian Ocean are confirmed to be from the lost aircraft.
MAS chief executive officer Ahmad Jauhari Yahya said the families of the 239 passengers and crew were always the top priority for the airline.
"We do take care of the next-of-kin (of passengers on board) and, assuming that it is confirmed the aircraft is located somewhere close to Australia, we will obviously make an arrangement to fly the next-of-kin there," he said. – Bernama
---
Malaysia Airlines MH370 debris search to resume in morning
Australian military aircraft flew over a remote area in the southern Indian Ocean and a cargo vessel was rerouted there to determine whether two large floating objects spotted by satellite are pieces of wreckage from a Malaysian jet missing for almost two weeks.The search, which included four planes, has ended for the day but will resume in the morning.
No certain wreckage from Malaysia Airlines Flight MH370 has been found since it disappeared on March 8, sparking one of the largest search efforts in aviation history and raising questions about what happened to the plane carrying 239 people. – cbcnews
---
Relatives of missing passengers threaten hunger strike
---
Mystery surrounds co-pilot's final words
"All right, good night" were the last words from the cockpit of the missing Malaysia Airlines Flight MH370.
These words have come under intense scrutiny in the recent days over whether they were said by the pilot or someone who was not supposed to be in the cockpit.
However, the Malaysian authorities today said these last words were not those of a stranger, but co-pilot Fariq Ab Hamid, according to preliminary investigations.
"Initial investigations indicate that it was the co-pilot who basically spoke the last time, it was recorded on tape," said MAS chief executive officer Ahmad Jauhari Yahya at a press conference at Sama-Sama Hotel, KLIA.
This final conversation took place just 11 minutes before MH370 disappeared from Malaysian air traffic controller radar at 1.30am on March 8.
Did something happen to the co-pilot in those 11 minutes or was the co-pilot part of something devious? – Malayskini
---
Search for MH370 widens, becomes difficult
The search for the missing Malaysia Airlines plane has become more difficult, said Malaysia's acting transportation minister. It now also involves large patches of land, some including remote areas. The number of countries involved in the search have jumped from 14 to 25 nations involved. "This is a significant recalibration," he said. U.S. intelligence officials are leaning toward the theory that "those in the cockpit" — the pilots of Malaysia Airlines Flight 370 — were responsible for the mysterious disappearance of the commercial jetliner, a U.S. official with direct knowledge of the latest thinking told CNN. – ksat.com
---
If MH370 crashed in southern Indian Ocean it wouldn't be seen or heard
The southern Indian Ocean, where investigators suspect missing Malaysia Airlines Flight MH370 may have come down, is one place where a commercial airliner can crash without a ship spotting it, a radar plotting it or even a satellite picking it up.
The empty expanse of water is one of the most remote places in the world and also one of the deepest, posing potentially enormous challenges for the international search effort focusing on the area, one of several possible crash sites.
Even Australia, which has island territories in the Indian Ocean and sends rescue planes to pluck stricken yachtsmen from the cold, mountainous seas in the south from time to time, has no radar coverage much beyond its Indian Ocean coast. "In most of Western Australia and almost all of the Indian Ocean, there is almost no radar coverage," an Australian civil aviation authority source said, requesting anonymity as he was not authorised to speak on the record. – The Guardian
---
Countries involved in search :Thailand, Myanmar, Nepal, Bangladesh, Bhutan, China, India, and Pakistan
This is the list of countries now involved in a vastly increased search area for missing Malaysia Airlines flight 370, according to BBC News. While missing aircraft involved in similar crash situations are normally found within a 20-mile radius of their last know position, the current search has expanded to an area thousands of miles wide — from the border of Kazakhstan and Turkmenistan in the north, to the southern Indian Ocean off the western coast of Australia to the south. – LinkTV
---
'Sky pirates flew jet to remote islands': Experts fear ransom demand for MH370
New evidence supported their shock theory that Flight MH370, with 239 passengers on board, had been grabbed in mid-air.Investigators are now confident that the jet flew on for another five hours after disappearing from radar systems. That is because, even though the two communications systems were switched off 14 minutes apart, satellites continued to pick up automatic signals from the cockpit.
The continuing failure by search teams to find any wreckage of the giant Boeing 777 on land or sea points to the astonishing conclusion that the jet was not blown up in mid-air and did not crash-land. And it is now feared that the plane has been captured intact by a terrorist group or by pirates looking for a ransom. – Daily Star
---
Families of passengers frustrated with investigation
After watching Malaysian Prime Minister Najib Razak's news conference on a big screen in a Beijing conference room, the relatives had many questions and concerns they wanted to discuss with airline officials who watched the briefing with them.
Malaysia Airlines Commercial Director Hugh Dunleavy, said he was "not permitted to respond to any questions", because the situation was starting to looking like a "criminal investigation".
However his response left some of the relatives furious and frustrated, as they accused both the airline and Malaysia's government of hiding the truth from them. – The Telegraph
---
Police search homes of pilots
Police searched the home of Captain Zaharie Ahmad Shah and the co-pilot of the missing Malaysia Airlines flight on Saturday. It was unclear if they took away a flight simulator from his house. The media was barred from entering the housing area by security guards. It is also unclear if anything was taken from the co-pilots house. – The Star
---
MH370 deviated but no confirmation on hijacking
Despite foreign media speculation of foul play in the disappearance of Flight MH370, Datuk Seri Najib Tun Razak stopped short of saying that the plane was hijacked.
"I wish to be very clear, we are still investigating all possibilities as to what caused MH370 to deviate from its original flight path," he told a press conference at Sama-Sama Hotel, KLIA, Saturday.Najib added that national security was second to the search for the missing plane.
"Based on new satellite information, we can say with a high degree of certainty, that the Aircraft Communication Addressing and Reporting System (Acars) was disabled just before the aircraft reached the east coast of Peninsula Malaysia," he said. – The Star
---
Officials confirm jet was seized by individual or group 'with significant flying experience'
Investigators say the missing Malaysia Airlines jet was hijacked and steered off-course.
A Malaysian government official said people with significant flying experience could have turned off the flight's communication devices.
The representative said that hijacking theory was now 'conclusive', and police are now believed to be searching the home of pilot, Capt Zaharie Ahmad Shah. – Daily Mail
---
China pushes for facts in Malaysian plane crash
China has urged Malaysia's government to release any information it has regarding the missing Malaysia Airlines jetliner to help narrow the search area.
Friday's appeal by the Foreign Ministry reflects growing frustration among Chinese officials over mixed and conflicting information about the plane, which vanished nearly a week ago with 239 people aboard.
A Foreign Ministry spokesman, Hong Lei, said at a news briefing that Beijing "urgently appeals" for any information regarding the search. Hong said that would "help all sides in the search to make their search more effective and accurately targeted." – WZZM13
---
Malaysia Airlines MH370 'hijacked', confirms Malaysia
Malaysian investigators have confirmed that one or more people with enough flying experience have hijacked the missing Malaysia Airlines jet, turned off communication devices and diverted it off-course.
The statement has come after seven days of unproductive searches for Malaysia Airlines Flight MH370. The Malaysian authorities suggested that the plane made several course corrections after the jet's last known communication with air traffic control.
The official involved in the investigation said that hijacking was no longer a theory. It was conclusive. He told a news agency that no motive has been recognized, no demands have been made and it was not clear where the plane was taken. – The Eastern Tribune
---
Focus back on crew, passengers
Malaysian Prime Minister Najib Razak said Saturday that the communications system of the Malaysia Airlines jet that went missing March 8 was disabled just before it reached the east coast of peninsular Malaysia.
"Based on new satellite communication, we can say with a high degree of certainty that the aircraft communications, addressing and reporting system were disabled just before the aircraft reached the east coast of peninsular Malaysia," he said at a press conference here.
"Shortly afterward, near the border between Malaysian and Vietnamese air traffic control, the aircraft's transponder was switched off."
From this point onwards, the Malaysia air force radar data showed an aircraft, which was believed but not confirmed to be the missing jet, did indeed turn back, and flew in a westerly direction, back over peninsular Malaysia before turning northwest, Xinhua quoted Razak as saying. – Read more
---
Radar shows sharp change in altitude and course of jet
Malaysia Airlines Flight 370 experienced significant changes in altitude after it lost contact with ground control, and altered its course more than once as if still under the command of a pilot, American officials and others familiar with the investigation have said.
Radar signals recorded by the Malaysian military appear to show the missing airliner climbing to 45,000 feet, above the approved altitude limit for a Boeing 777-200, soon after it disappeared from civilian radar and made a sharp turn to the west, according to a preliminary assessment by a person familiar with the data. – The Irish Times
---
Indian search finds no trace of Malaysian plane
Indian navy ships supported by surveillance planes and helicopters scoured Andaman Sea islands for a third day on Saturday without any success in finding evidence of a missing Malaysia Airlines jet, an official said.
V.S.R. Murthy, a top Indian coast guard official, said the search has been expanded farther west into the Bay of Bengal. Nearly a dozen ships, patrol vessels, surveillance aircraft and helicopters have been deployed but "we have got nothing so far," Murthy said. – azcentral
---
Plane may have run out of fuel over Indian Ocean
Faint electronic signals sent to satellites from a missing Malaysian jetliner show it may have been flown thousands of miles off course before running out of fuel over the Indian Ocean, a source familiar with official U.S. assessments said.
Analysis in Malaysia and the United States of military radar tracking and pulses detected by satellites are starting to piece together an extraordinary picture of what may have happened to the plane after it lost contact with civilian air traffic.
---
Radar data suggests plane flown deliberately toward Andaman
Military radar-tracking evidence suggests a Malaysia Airlines jetliner missing for nearly a week was deliberately flown across the Malay peninsula towards the Andaman Islands, sources familiar with the investigation told Reuters on Friday.
Two sources said an unidentified aircraft that investigators believe was Flight MH370 was following a route between navigational waypoints – indicating it was being flown by someone with aviation training – when it was last plotted on military radar off the country's northwest coast. – Read more
---
Disappearance of Malaysian jet appears 'deliberate': PM
Malaysia's leader Saturday said communications aboard a missing jet were switched off and its course deliberately changed by someone on board before the aircraft disappeared a week ago, but stopped short of saying it had been hijacked.
Final satellite communication with the Boeing 777 flying from Kuala Lumpur to Beijing came more than six-and-a-half hours after it vanished from civilian radar at 1:30am on March 8, Prime Minister Najib Razak told a nationally televised press conference. – mysinchew
---
Focus 'shifts west' for missing jet
US officials helping with the search for Flight MH370 are "shifting focus" to the "Indian Ocean region," the BBC reported. However, one official told the BBC that this did not necessary mean specific new leads.
White House spokesman Jay Carney told reporters that "because of new information, we may be part of an effort to open a new search area in the Indian Ocean," and that the US was consulting with the Malaysian government on what resources might be deployed. – Aysor.com
---
Signals hint Malaysian Airlines jet flew on for hours
The search for a missing Malaysian jetliner with 239 people onboard could expand westward into the Indian Ocean based on information that the plane may have flown for at least four hours after it dropped from civilian radar, US officials said Thursday. A senior US official said the information came from data sent via a satellite communications system by Malaysia Airlines Flight MH370. That data has convinced US officials that the plane's engines continued to run for at least four hours after all other communication was lost. If the plane flew on for hours, it raises the likelihood of foul play. US officials said someone in the cockpit could have turned off the transponder and radio before flying on. "The fact that a modern airplane with a huge amount of redundancy appeared to change course at the same time that the transponder was turned off, that suggests that someone unauthorised took control of that airplane, like an intruder or one of the pilots," said a US air-crash expert who spoke on the condition of anonymity because the expert is not directly involved in the investigation. – Helsinki Times
---
Vietnam downgrades search for missing jet
Vietnam says it has downgraded but not stopped its search for the missing jetliner in the South China Sea and has been asked by Malaysian authorities to consider sending planes and ships to the Strait of Malacca. The statement Friday is a sign that the focus of the search effort is switching to the west of Malaysia, to the strait and further west into the Indian Ocean. – Chron.com
---
Satellite Clue Fizzles As Controversial New Report Claims Flight 370 Flew on for Hours
On Wednesday, in what appeared to be the most significant break in days of searching for Malaysian Airlines Flight 370, the Chinese government released satellite images of a "suspected crash area at sea." But Vietnamese officials later said the area had already been "searched thoroughly," and on Thursday, planes sent to reinspect the location failed to spot any debris. "There is nothing. We went there, there is nothing," said Azharuddin Abdul Rahman, Malaysia's civil aviation chief. China may have released the images by accident. In still another twist, two sources tell The Wall Street Journal that U.S. investigators suspect the plane was in the air for about four hours, or up to 2,000 miles, after it reached its last confirmed location. Malaysian officials, however, deny that report as well. – nymag.com
---
Military official denies engine data report over missing plane
Malaysia's Defense Minister is denying reports that engine data from the missing Malaysian jetliner indicated it may have kept flying for four hours after its last communication. Reports suggested that the Rolls Royce engines aboard the Boeing 777 automatically sent data to the engine manufacturer as part of a maintenance program. – wwmt.com
---
MAS changes flight number for KL-Beijing-KL flights
In light of the disappearance of MH370, Malaysia Airlines has changed the flight number for its Kuala Lumpur- Beijing-Kuala Lumpur flights effective tomorrow. MAS in its statement said the previous flight number of MH370 for flights from Kuala Lumpur to Beijing will be revised to MH318. Its MH371 return flight, would be changed to MH319 and its frequency remains unchanged. "As a mark of respect to the passengers and crew of MH370, which disappeared on 8 March 2014, the MH370 and MH371 flight codes will be retired from the Malaysia Airlines' Kuala Lumpur- Beijing-Kuala Lumpur route. "Our thoughts and prayers remain with the families of our colleagues and passengers of MH370." it said. – NewStraitsTimes
---
Malaysia plane: China debris images 'released by mistake'
Chinese satellite images that were said to show debris from a missing Malaysian airliner were released by mistake, Malaysia's transport minister says. Mr Hishammuddin Hussein told reporters at Kuala Lumpur International Airport that the Chinese embassy in the Malaysian capital had said the satellite images were released by mistake and "did not show any debris from MH370″. – BBC News
---
Officials deny report that Malaysia Airlines Flight 370 kept flying for hours
Malaysian officials on Thursday denied a newspaper report that suggested the missing Malaysia Airlines plane may have kept flying for four hours after its last reported contact. Malaysia's acting Transportation Minister Hishammuddin Hussein said at a news conference that the report, citing unidentified people familiar with the matter, was "inaccurate". Malaysian officials said they had consulted with the makers of the plane and its engines, who told them that no transmissions of any kind were received from the plane after air traffic controllers lost contact with it. – CNN
---
Search for MH370 goes online
U.S. satellite operator DigitalGlobe Inc has turned to crowdsourcing to help in the search for Malaysia Airlines flight MH370 with online volunteers searching satellite images for evidence of the missing jet. U.S. satellite operator DigitalGlobe Inc turned to crowdsourcing to help in the search for flight MH370 by asking volunteers to search for any evidence of the missing jet on the Tomnod online platform. – ChannelNewsAsia
---
Vietnam says possible debris area already searched
The area where Chinese satellite images show what might be debris from the missing Malaysian jetliner has been thoroughly searched in recent days, Vietnam said Thursday as Malaysia urged caution over the findings. The hunt for the Boeing 777 has been punctuated by false leads since it disappeared with 239 people aboard just hours after leaving Kuala Lumpur for Beijing early Saturday. The plane was heading east over the South China Sea when it disappeared, but authorities believe it may have turned back and headed into the upper reaches of the Strait and Malacca or beyond. – WRAL.com
---
Chinese satellite finds 'suspected crash area at sea
Chinese satellites searching for the missing Malaysia Airlines Flight MH370 have "observed a suspected crash area at sea," a government agency has revealed. The Chinese have released days-old images of potential wreckage in the South China Sea in what is possibly the first indication of a crash site five days after the Boeing 777 disappeared with 239 people onboard. Read more
---
Family members attend late night briefing
The family members of passengers aboard MH370 are being given a briefing on the progress of the search and rescue mission now. They were called to the ballroom at Everly Hotel, here, for the briefing which included Malaysian Maritime Enforcement Agency deputy director-general Vice-Admiral Datuk Ahmad Puzi Abdul Kahar. Read more
---
Fishermen find life raft near PD
One of the fishermen, Azman Mohamad, 40, said they found the badly damaged raft floating and immediately notified the Kuala Linggi Malaysian Maritime Enforcement Agency (MMEA) in Malacca for assistance to lift the raft as it was very heavy. "We managed to tie it to our boat as we feared it would sink due to the damages," he said. Read more
---
Oil rig worker saw Malaysia Airlines Flight MH370 go down
An oil rig worker claimed he saw the Malaysia Airlines Flight MH370 crash while working off the south coast of Vietnam, according to a report. Bob Woodruff, an ABC News correspondent, obtained a copy of an email the man said he sent to his employer stating he witnessed the crash. "I believe I saw the Malaysia Airlines plane come down. The timing is right," the man said in the email. "I tried to contact the Malaysian and Vietnam officials several days ago. But I don't know if the message has been received." "From when I first saw the burning (plane) until the flames went out (still at high altitude) was 10 to 15 seconds," he wrote. "There was no lateral movement, so it was either coming toward our location, stationary (falling) or going away from our location." Read more
---
Press Conference in Phu Quoc island
Vietnamese Navy's Deputy Commander Rear Admiral Le Minh Thanh speaks to reporters during a press conference on search activities for the missing Malaysia Airlines flight 370 in Phu Quoc island on March 12, 2014. – NationalPost
---
Flight MH370 crew's last words
As the plane reached the boundary between Malaysian and Vietnamese airspace, the Malaysian air control announced it was handing over to Ho Chi Minh City Control. Flight MH370 replied ""All right, good night" — the last known radio transmission heard from the aircraft.
---
RMAF chief denies military radar report (Aircraft turn back)
"I wish to state that I did not make any such statements as above, what occurred was that the Berita Harian journalist…" Read more
---
Experts 100 per cent sure oil slicks not from aircraft
"While I am not 100% certain that the slick is from a tanker, I am 100% certain that it is not aircraft fuel." – Marine Engineer
---
Don't read too much into ringing phones
"When a cell phone rings, it first connects with the network and attempts to locate the end-user's phone, if it doesn't find the phone after a few minutes, after a few rings, then typically, it disconnects and that's what's happening. So, they're hearing ringing and they're assuming it's connecting to their loved ones, but it's not. It's the network sending a signal to the phone letting them know it's looking for them." – Technology Industry and Analyst "E-Commerce Times"
---
MAS 'shocked' by report on co-pilot
Allegations of co-pilot allowing passengers to the cockpit breaching airline security measures. "Malaysia Airlines said Tuesday it was "shocked" by allegations aired in an Australian news programme of a past cockpit security breach involving the co-pilot on its missing passenger jet."  - News Strait Times Read more
---
Last known location and search areas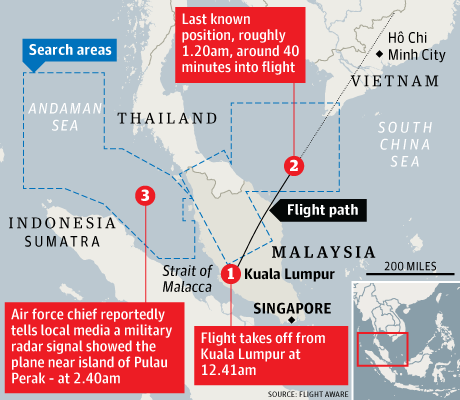 ---